The Enjoy Your Party Difference: Why One Customer is Never Looking Back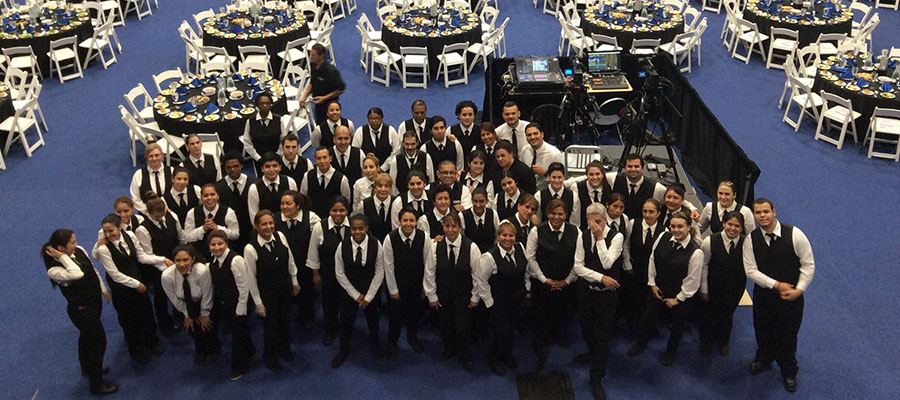 Since he started working with Enjoy Your Party a little over a year ago, Michael Civitella has been consistently satisfied and impressed with the brand's professionalism and customer service.
Michael Civitella is no stranger to the food service industry. He's spent his entire career in the segment, which means that he's an expert when it comes to hiring staff members to work out of different kitchens for various events. However, it wasn't until a little over a year ago that his views on food service staffing companies changed.
Up until that point, Civitella was used to receiving subpar employees from run-of-the-mill temp agencies. That's why his friend and former co-worker introduced him to Enjoy Your Party, a food service staffing company and emerging franchise. Civitella's friend knew that he needed professional employees to work in the kitchen at St. Luke's University Health Network in Bethlehem, Pennsylvania for his job with Sodexo. So, Civitella decided to give them a shot.
"Having been in the food industry my entire life, I'm used to working with local man power or some type of temp agency to staff my kitchens. I've found that I was always able to find people to wash the dishes, but I could never find anybody that actually had seasoned cooks on their roster. That's why I wasn't expecting anything special when I first worked with Enjoy Your Party. But they're just a breath of fresh air," said Civitella. "In the past, I've dealt with staff members who wouldn't show up or people who would work for half a day before disappearing. Enjoy Your Party's team couldn't be further from that—they always have good people working for them. You can count on Enjoy Your Party employees to show up on time, do a good job and be professional."
Enjoy Your Party is the industry's premier staffing company that's out to set a new standard for excellence. From its servers and cooks to its set up and break down crews, every aspect of the brand's business model is designed to ensure that events go off without a hitch. That begins and ends with customer service—every member of the Enjoy Your Party team, from those in the field to employees in the corporate office, is trained to lend a helping hand whenever their clients need it.
"It's not uncommon to hear about unpleasant experiences with staffing agencies that are similar to Michael's. That's why our business is doing so well—we're tapping into climbing demand for professional and friendly employees," said Patrick Morlando, President of Enjoy Your Party Franchising Group. "We take great pride in our ability to help our clients with their food service staffing needs, and even as we expand through franchising, ensuring top tier customer service will remain a top priority."
Right now, there are over 450 employees working for Enjoy Your Party. And that number is expected to climb as demand for the brand's services grows. That's why Enjoy Your Party is aiming to break into new markets across the East Coast with the help of franchisees—it recognizes that its business model resonates well with consumers like Civitella.
Franchisees interested in reaching those types of customers and being a part of the Enjoy Your Party brand can expect their initial investment to range from $84,800 to $111,375. That affordable start-up cost gives them access to a proven and simple business model that's designed to keep customers coming back for their food service event staffing needs.
"Before I found out about Enjoy Your Party, I had never worked with a temp agency or company where I would talk to the owners. Now, I have a great relationship with Pat and the entire corporate team," said Civitella. "That's a part of business that's often overlooked, even though it's really important. Most of the time you're lucky to talk to a supervisor, or really anybody at all. But Enjoy Your Party goes above and beyond to get back to you and help you out. Their customer service is second to none, and working with them is worth it."